Phuket is a popular tourist destination in Thailand, known for its stunning beaches, vibrant nightlife, and rich cultural heritage. If you're planning a trip to Phuket, especially to Phuket Yacht Club to enjoy the amazing sailing on offer here's some information to help you make the most of your visit:
Best Time to Visit Phuket
The best time to visit Phuket is during the dry season, which runs from November to April. The weather is pleasant, with clear skies and warm temperatures. However, this period is also the peak tourist season, so expect larger crowds and higher prices. The wet season, from May to October, brings occasional rain showers, but it's less crowded, and you can find better deals on accommodations. Phuket Yacht Club is open to sailors all year round and offer yacht races and regattas throughout the year along with many social events from quizzes to wine tastings and celebratory meals.
Getting Here
Phuket has an international airport, Phuket International Airport (HKT), which is well-connected to major cities in Asia and beyond. You can also reach Phuket by ferry from neighboring islands or by bus from other parts of Thailand.
Beaches
Phuket is renowned for its beautiful beaches. Some of the most popular ones include Patong Beach, Kata Beach, Karon Beach, and Kamala Beach. Each beach offers a unique atmosphere, from the bustling nightlife of Patong to the tranquil shores of Kata and Karon. You can enjoy various water activities like swimming, snorkeling, diving, and beachside relaxation. Phuket Yacht Club is located in Chalong Bay, sheltered and perfect for mooring up with a beachside Clubhouse to unwind in after a day on the water.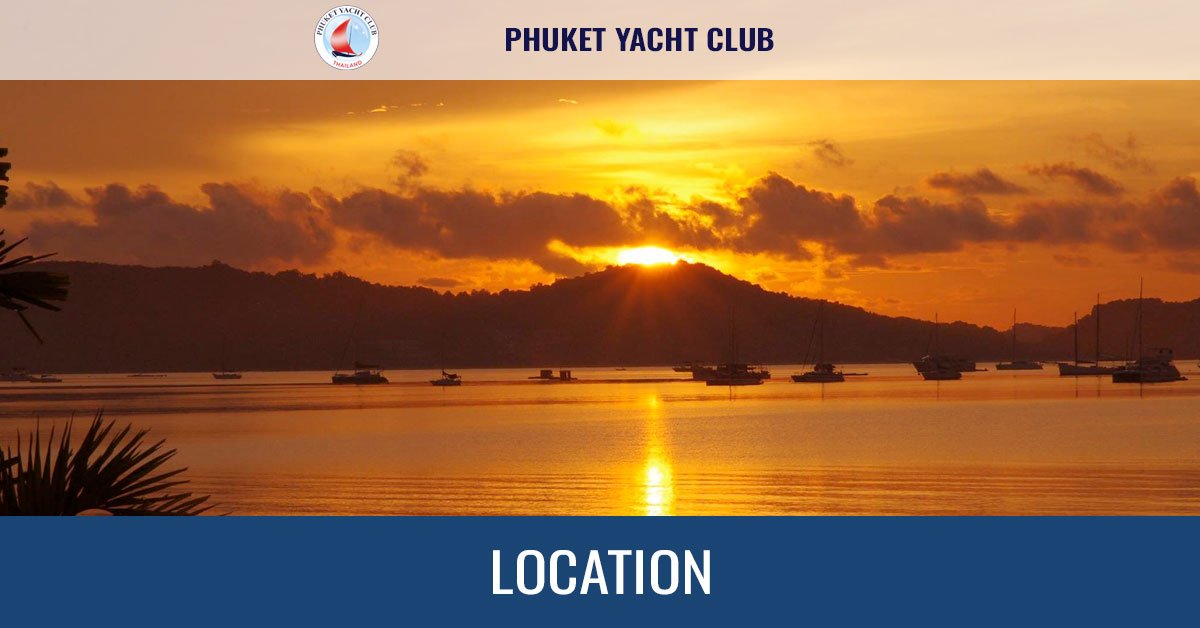 Old Town Phuket
Phuket Old Town is the historical heart of the island, featuring well-preserved Sino-Portuguese architecture, colorful buildings, and vibrant street art. Take a stroll through the streets, visit art galleries, boutique shops, and try local delicacies at the street food stalls. Don't miss the Sunday Walking Street Market, where you can shop for souvenirs and sample delicious Thai street food.
Wat Chalong
One of Phuket's most important Buddhist temples, Wat Chalong, is worth a visit. Admire the intricate architecture, ornate decorations, and serene atmosphere. The temple also houses statues and relics of revered monks. Remember to dress modestly and remove your shoes before entering the temple buildings.
Phang Nga Bay
Located northeast of Phuket, Phang Nga Bay is famous for its towering limestone cliffs, emerald-green waters, and hidden lagoons. Take a yacht tour or kayak through the stunning scenery and explore attractions like James Bond Island, known for its appearance in the movie "The Man with the Golden Gun."
Thai Cuisine
Indulge in the flavors of authentic Thai cuisine while in Phuket. From street food to upscale restaurants, you'll find a wide variety of dishes to suit every palate. Don't miss trying popular dishes like Pad Thai, Tom Yum Goong (spicy shrimp soup), Massaman Curry, and Mango Sticky Rice. Our Restaurant at Phuket Yacht Club offers a great selection of both Thai and Western cuisine.
Cultural Etiquette in Thailand
While visiting Phuket, it's important to respect the local culture and customs. Dress modestly when visiting temples, cover your shoulders and knees, and remove your shoes before entering sacred sites. Additionally, be mindful of local laws and regulations, such as avoiding the possession and use of illegal substances.
Remember to check the latest travel advisories and guidelines before your trip to Phuket, as situations may change. Enjoy your visit to this beautiful island and immerse yourself in the natural beauty and warm hospitality of Phuket!